Brian McKnight's Discography & Filmography
Discography (CD's & Singles)
Click CD Cover to View / Full Track Listings from Amazon.com
To Search for Song Lyrics > Click Here < To search for Song Lyrics > Click Here <
1991

1995

1997

1998

1999

2001

2002
2003
2005
2005 / 2006
2008


2009

July 2011

<<2CD set
Brian McKnight "Just Me" 2CD full track listing (July 12, 2011)
Retail CD version of CD also available at Walmart, Target, and Best Buy. Incredible value, on sale between $10 - $15 (depending on retailer) for this amazing 2CD set. 40 tracks of music!
40 Incredible Tracks for the Just Me CD (2CD Set): Incredible Value!
1st CD (new studio release songs from Brian)
01. Temptation
02. Fall 5.0
03. One Mo Time
04. Gimme Yo Love
05. Husband 2.1
06. Without You
07. Just Lemme Know
08. End and Begin with You
09. Careless Whisper
10. Just Me
2nd CD (Live CD set from Just Me Concert)
1. Find Myself in You
2. More Than Wonderful
3. Only One for Me
4. Bio, Pt. 1
5. Gonna Fly Now [Rocky Theme]
6. Sonata [Classical]
7. Rouge
8. Bio, Pt. 2
9. On the Battlefield for My Lord
10. Bio, Pt. 3 ("Sweet Love")
11. Find My Way Back Home
12. Unforgettable
13. Overjoyed
14. Rock with You
15. Crazy Love
16. Can You Read My Mind
17. Come Back to Me
18. Never Felt This Way
19. All I Need Is You
20. Still
21. Do You Ever Think About Me
22. The Rest of My Life
23. Temptation
24. I Miss You
25. Anytime
26. Back at One
27. One Last Cry
28. One More Time followed by "After the Love"
29. Cherish followed with "Another You")
30. Shoulda, Woulda, Coulda
Purchase the 2CD set today at:
In Canada / Amazon.ca
Brian McKnight "Just Me"
2 CD set, with 10 new Brian McKnight songs, and 12 songs from the "Just Me" Brian McKnight tour. This release is due on July 12th, 2011
The first debut single is "Fall 5.0" now available on iTunes for purchase!
"Fall 5.0" now available for purchase on >> iTunes.com
Brian's Evolution of a Man - CD Preview from ReverbNation Jukebox Player - Dec. 2010

To listen to a full song sample of Brian's latest CD, check out the Jukebox below.
If you like what you hear, you can buy Brian's full CD at:
Amazon.com - Evolution of a Man - Evolution of a Man
iTunes.com - Evolution of Man - Brian Mcknight

Brian's Latest CD Release (Oct 27,2009)
Evolution of A Man is an album by Brian McKnight which is due for release on October 27, 2009.
The new album will contain collaborations with Jill Scott and Stevie Wonder.
The first single, "What I've Been Waiting For", was officially released on August 21, 2009.
Here is the latest revised track listing:
"The Brian McKnight Show"
"Just a little Bit"
"I Betcha Neva"
"What I've Been Waiting For"
"Whenurlovinme"
"Never Say Goodbye"
"Stay Tuned"
"Next 2 U"
"I Miss U "
"Always Be My Baby "
"Baby It's U"
"While"
"Another You
"Not Alone"
"Ten"

Brian's CD, "Ten" features smash hits, "Used to Be My Girl", "Find Myself in You".
Preview Brian's new CD "Ten" on Rhapsody >> Click Here
Preview "Ten" Song Clips at Walmart.com >>Click Here
Other Releases: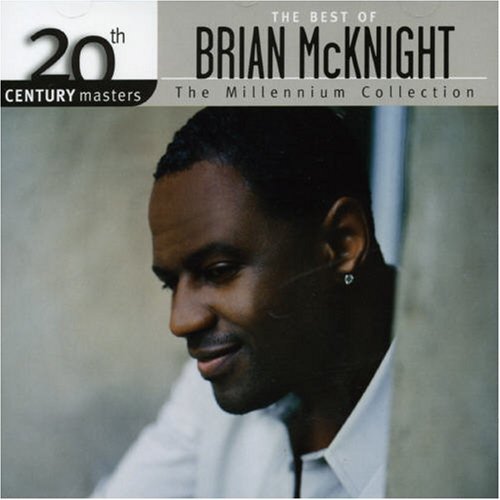 Sept 12, 2006 "Best of Brian McKnight" Pre-Order (Amazon)
Album Chronology
Mercury releases Motown releases

Warner Brothers (Upcoming Releases)
2006: Ten << Soon to be Released Fall 2006 (October / November 2006)
Singles
Mercury releases
1992: "The Way Love Goes" (R&B #11)
1992: "Goodbye My Love" (R&B #46)
1993: "One Last Cry" (US #13, R&B #8)
1993: "After the Love" (R&B #39)
1993: "Love Is" (Performed by Vanessa Williams and Brian McKnight) (US #3, R&B #55)
1995: "Crazy Love" (US #45, R&B #10)
1995: "On the Down Low" (US #73, R&B #12)
1995: "Still in Love" (R&B #24)
1997: "You Should Be Mine (Don't Waste Your Time)" (US #17, R&B #4)
1998: "Anytime"
1998: "Hold Me" (US #35)
1998: " The Only One for Me "
Motown releases
1999: " Back at One " (US #2, R&B #7)
2000: " 6, 8, 12 " (R&B #48)
2000: "Stay or Let It Go" (US #76, R&B #26)
2000: "Win" (R&B #51)
2001: "Love of My Life" (US #51, R&B #11)
2001: "Still"
2002: "What's It Gonna Be" (US #91, R&B #48)
2003: "Shoulda, Woulda, Coulda" (R&B #35)
2005: "What We Do Here" (R&B #35)
2005: "Everytime You Go Away" (R&B #36)
2006: "Find Myself In You" (R&B #30)
Billboard Artist Chart History for Brian McKnight Singles
| | | | |
| --- | --- | --- | --- |
| Year: | Title: | Chart: | Peak Position: |
2006
Find Myself In You
Hot R&B/Hip-Hop Songs
27
2005
Everytime You Go Away
Hot R&B/Hip-Hop Singles & Tracks
36
2004
What We Do Here
Hot R&B/Hip-Hop Singles & Tracks
35
2003
Shoulda, Woulda, Coulda
Hot R&B/Hip-Hop Singles & Tracks
35
2002
Still
Adult Contemporary
22
2002
Tell Me What's It Gonna Be
Hot R&B/Hip-Hop Singles & Tracks
48
2002
Tell Me What's It Gonna Be
The Billboard Hot 100
91
2001
Love Of My Life
Hot R&B/Hip-Hop Singles & Tracks
11
2001
Love Of My Life
The Billboard Hot 100
51
2001
Win
Hot R&B/Hip-Hop Singles & Tracks
51
2000
6, 8, 12
Hot R&B/Hip-Hop Singles & Tracks
48
2000
Back At One
Adult Contemporary
4
2000
Back At One
The Billboard Hot 100
1
2000
Stay Or Let It Go
Hot R&B/Hip-Hop Singles & Tracks
26
2000
Stay Or Let It Go
The Billboard Hot 100
76
1999
Back At One
Hot R&B/Hip-Hop Singles & Tracks
7
1997
You Should Be Mine (Don't Waste Your Time)
Hot R&B/Hip-Hop Singles & Tracks
4
1997
You Should Be Mine (Don't Waste Your Time)
The Billboard Hot 100
17
1996
Still In Love
Hot R&B/Hip-Hop Singles & Tracks
24
1995
Crazy Love (From "Jason's Lyric")
Hot R&B/Hip-Hop Singles & Tracks
10
1995
Crazy Love (From "Jason's Lyric")
The Billboard Hot 100
45
1995
On The Down Low
Hot R&B/Hip-Hop Singles & Tracks
12
1995
On The Down Low
The Billboard Hot 100
73
1994
After The Love
Hot R&B/Hip-Hop Singles & Tracks
39
1993
One Last Cry
Adult Contemporary
16
1993
One Last Cry
Hot R&B/Hip-Hop Singles & Tracks
8
1993
One Last Cry
The Billboard Hot 100
13
1992
Goodbye My Love
Hot R&B/Hip-Hop Singles & Tracks
46
1992
The Way Love Goes
Hot R&B/Hip-Hop Singles & Tracks
11
Brian McKnight / Filmography

[2006] - Live with Regis and Kathie Lee
[2006] - ESPN Hollywood
[2006] - Jimmie
[2005] - Tavis Smiley
[2005] - Life & Style
[2005] - The Late Late Show with Craig Ferguson
[2005] - The Vegas Show with Sheena Easton & Brian McKnight
[2005] - The 8th Annual Soul Train Christmas Starfest
[2005] - Leverage
[2005] - All Shades of Fine
[2005] - The Tom Joyner Show
[2005] - Mississippi Rising
[2005] - 2005 MLB All-Star Game
[2005] - Nick & Jessica's Tour of Duty
[2005] - Jimmy Kimmel Live
[2005] - The 19th Annual Soul Train Music Awards
[2005] - American Dreams
[2005] - Forever in Our Hearts
[2005] - Soul Train
[2005] - Live with Regis and Kathie Lee
[2004] - Nick & Jessica's Family Christmas
[2004] - Raymann is laat
[2004] - 2004 Radio Music Awards
[2004] - AFI's 100 Years... 100 Songs
[2004] - Apollo at 70
[2004] - The Wayne Brady Show
[2004] - Motown 45
[2004] - The 46th Annual Grammy Awards
[2003] - The New Tom Green Show
[2003] - 3rd Annual BET Awards
[2003] - Summer Music Mania 2003
[2003] - 100 Greatest Videos
[2003] - Platinum
[2003] - The Isaac Mizrahi Show
[2003] - The Beat
[2003] - Pyramid
[2003] - Cribs
[2003] - The Sharon Osbourne Show
[2003] - 9th Annual Soul Train Lady of Soul Awards
[2003] - American Juniors
[2002] - Bubblegum Babylon
[2002] - The 8th Annual Walk of Fame Honoring Stevie Wonder
[2002] - My Wife and Kids
[2001] - Say It Loud
[2001] - The Parkers
[2001] - The Wayne Brady Show
[2001] - MTV 20
[2001] - The 28th Annual American Music Awards
[2000] - A SHeVery Merry Christmas with SHeDAISY
[2000] - The 2000 Billboard Music Awards
[2000] - Christina Aguilera
[2000] - 100 Greatest Dance Songs of Rock & Roll
[2000] - Men of Honor
[2000] - Inside the Music with Yolanda Adams
[2000] - Nutty Professor II
[2000] - Stepsister from the Planet Weird
[2000] - City of Angels
[2000] - A Diva's Christmas Carol
[1999] - Stuart Little
[1999] - The Martin Short Show
[1999] - Sister, Sister
[1999] - Mad TV
[1998] - His Bodyguard
[1998] - Essence Awards
[1998] - Beverly Hills, 90210
[1998] - The 1998 Billboard Music Awards
[1998] - The 26th Annual American Music Awards
[1998] - Mariah Carey
[1998] - The Prince of Egypt
[1998] - Sister, Sister
[1998] - The Rosie O'Donnell Show
[1997] - The Steve Harvey Show
[1996] - Living Single
[1995] - New York Undercover
[1994] - Martin
[1994] - 26th NAACP Image Awards
[1993] - The 1993 Billboard Music Awards
[1993] - MMC
[-NA-] - Two for the Knight