The Latest Brian McKnight News
Welcome to the latest release of the Brian McKnight Fans.com website! Watch for updates as the new Brian McKnight album is released this fall.
The fresh new look is to allow more content to be added to the fansite and give you all the fan information you've been looking for.
Here's some of the latest Brian McKnight News on the Wire:
Latest News:
August 2017
Brian McKnight fans - Brian has released his new CD, "Genesis"
An amazing collection of soulful, sultry and romantic ballads that bring back the old school Brian McKnight.
Be sure to check it out on ITunes, Apple Music, Amazon Music, or Spotify.
Featuring hits such as, "Forever", "I Want U", "10 Million Stars", "Everything"
For a full track listing visit >>here
March 2016
Brian McKnight fans - Brian has released his new CD, "Better"
Brian is back with a new CD now available on Amazon and ITunes. 2016 will be a year full of live concerts and tours, so be sure to come back and check on current tour dates.
Here are some recent interviews with Brian:
SoulTrain: Brian McKnight is Back and Better than Ever
Tavis Smiley Interview with Brian McKnight on "Better" latest CD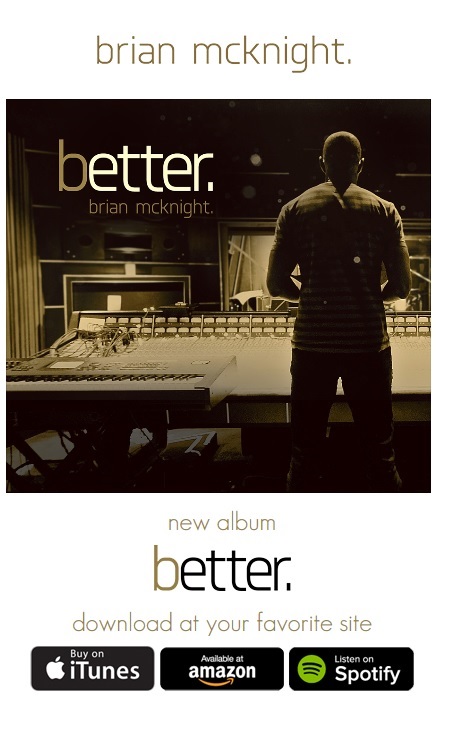 February 2015
Brian McKnight 2015 tour dates annouced, see concert section for more details
May 30, 2014 - Brian McKnight to appear on "The Juice" talk show.
>> FREE Studio audience tickets available!
EXTRA EXTRA! Brian McKnight fans!
Brian will be appearing on a new talk show called "The Juice" on Wednesday June 4th, 2014 and you're invited to be part of the live studio audience. It's girls only day (sorry guys) but it should be a great event!
It will be an hour long ladies / girls only show. If you are in the New Jersey area and would like to attend the taping of the show and be part of the studio audience, please see the details below, and request your tickets through the following link! Act fast, as this is sure to be a popular event:
Here's a note and invitation from the studio audience producer of "The Juice":
=================================================================
Calling all my ladies!!!!!
A HOT New Talk Show (THE JUICE) is Hosting an hour long girls only Pyjama Party Show
LIVE on:
Wednesday, June 4, 2014.
With Special guest

Brian McKnight

.
We will have fun giveaways and other surprises.
It's one fun filled hour you won't want to miss!
So grab your friends and wear your cozy or fun PJ's and join us in the FUN!
To request your tickets please go to http://www.Veria.com/tickets
And we will send you an email confirmation! We hope you will join us!
Notes:
To Select the Correct Time/ Date see the following, choose:
Wednesday, June 4th, 2014, and select the PM show (which starts at 1PM), check-in at 12:30pm
(There is only one live show taping on Wednesday and it is at 1PM)
===========================================================
January 2014
==========
There's great news for international and UK based Brian McKnight fans this year! Brian has already set up a number of UK based tour dates as well as concerts in Australia and New Zealand. New Concert dates are always being updated but can be searched here at Songkick >> Brian McKnight Concerts 2014
So far there's only one US tour date, and that one is on Valentines Day February 14th at the Emerald Queen Casino, in Tacoma Washington. The seats are selling fast, so be sure to buy your tickets as soon as possible to avoid disappointment. The last time I checked, the venue was already 75-80% full. You can buy tickets directly from Ticketmaster.com
Brian McKnight 2014 Concert Dates (January to March 2014)
Also, for more information about Brian's lastest events and activities, you can also visit his official page at: www.mcknight360.com
===============================
2013 News: Archived
2012 News: Archived
Tentatively: Concert DVD for Just Me is due to be released in December 2011.
July 12, 2011: Just Me 2CD set is released - on sale online through Amazon, iTunes, and through local retailers, Wal Mart, Best Buy, Target.
Dates Scheduled 2011:
June 11, 2011: Current Updated Tour Dates (Brian McKnight):
June 2011
11- Just Me Tour - Birmingham, AL
12 -Just Me Tour - Kingston, Jamaica
16- Full Band Show - Chattanooga, TN
17- Full Band Show in Concho, OK
18- Full Band Show in Newkirk, OK
23- Just Me Tour - Perth, Australia
24- Just Me Tour - Melbourne, Australia
25- Just Me Tour - Sydney, Australia
26- Just Me Tour - Brisbane, Australia
28- Just Me Tour - Melbourne, Australia
July 2011
3 - Full Band Show - Nami Sum Island, Korea
6 - Just Me Tour - Minneapolis, MN
7 - Just Me Tour - Minneapolis, MN
9 ..- Just Me Tour - Country Club Hills, IL
10 - Just Me Tour - Louisville, KY
13 - Just Me Tour - North Tonawanda, NY
15 - Just Me Tour - Providence, RI
16 - Just Me Tour - Norfolk, VA
21 - Just Me Tour -Rockville, MD at Music Center Strathmore
22 - Just Me Tour - Rockville, MD
23- Just Me Tour - NYC at the Apollo Theatre
24- Just Me Tour - Wilmington, DE
29- Just Me Tour - Myrtle Beach, SC
30- Just Me Tour - Pittsburgh, PA
August 2011
5 - Just Me - Biloxi, MS at Hard Rock
12 Just Me - Kansas City, MO
13 Just Me - Detroit
19 - Just Me - Miami, FL
20 - Just Me - Savannah, GA
27 - Just Me - Orem, UT
September 2011
10 - Just Me - Seattle, WA
17 - Just Me - West Palm Beach, FL
Upcoming Tour Dates 2011:
Just announced! Information courtesy of Frontstage Productions!

Here is a new tour date for 2011 Brian McKnight "Just Me" tour. with very special guests: Brkn Robots, and Claude McKnight.
Friday August 12, 2011 at UPTOWN THEATER, Kansas City, MO
EXCLUSIVE PRESALE:
Get your tickets and great seats before anyone else: Brian McKnight Live in Kansas City. Presale Password for Ticketmaster is: "justme" Presale. May 13th @ 10am

Notice to all fans:
When you click on the Buy Tickets link on some of the Songkick.com links, be sure to notice that some of the ticket purchasing links are from ticket resellers (which may have higher prices for the same tickets).
Whenever possible, purchase your tickets directly from the source (the venue, or www.ticketmaster.com to compare pricing before you buy your tickets).
---------------------------------------------------------------------------------------------------------------------------
Other Upcoming Tour Dates 2011:
Saturday April 9, 2011 - Pearl Concert Theatre - Palms Casino Resort (Las Vegas, NV)
Saturday April 23, 2011 - Brian McKnight w/Avant & Vivian Green - U.N.O Lakefront, New Orleans
Saturday April 30, 2011 - Wind Creek Casino and Hotel - Atmore, AL, US
Thursday May 5, 2011 - Brian McKnight - Extraco Events Center - Waco, Texas
Thursday May 12, 2011 - Celebrity Theatre - Phoenix, Arizona
Friday May 13, 2011 - "Brian McKnight with Jagged Edge" - Nokia Theatre, LA, California
Saturday May 14, 2011 - Cache Creek Casino Resort - Brooks, California
Saturday June 11, 2011 - Brian McKnight with Joe - Verizon Theatre - Grand Prairie, Texas
Sunday July 10, 2011 - Brian McKnight - WL Lyons Brown Theatre - Louisville, KY
Friday July 22, 2011 - Brian McKnight - BB King Blues Club & Grill
Friday August 5, 2011 - Hard Rock Live, Biloxi, MS
Friday August 12, 2011 - B. McKnight w/Brkn Robots, Claude McKnight - Uptown Theatre, Kansas City, MO
For more information / ticket purchases go to www.ticketmaster.com
For event information (for events not listed on Ticketmaster) go to: www.songkick.com
Notice to all fans:
When you click on the Buy Tickets link on some of the Songkick.com links, be sure to notice that some of the ticket purchasing links are from ticket resellers (which may have higher prices for the same tickets).
Whenever possible, purchase your tickets directly from the source (the venue, or www.ticketmaster.com to compare pricing before you buy your tickets).
Dates Scheduled 2010:
Jul 23 Fri
RBC Center Raleigh, NC
07:30 PM
The Foxy Anniversary Concert with Maze featuring Frankie Beverly
Aug 13 Fri
Hard Rock Live Biloxi, MS
08:00 PM
Brian McKnight
Aug 15 Sun
Hollywood Bowl Hollywood, CA
06:00 PM
Smooth Summer Jazz
Aug 27 Fri
Twin River Event Center Lincoln, RI
08:00 PM
Brian McKnight
Aug 30 Mon
Robin Hood Dell Philadelphia, PA
08:00 PM
Brian McKnight
Sep 11 Sat
Emerald Queen Casino Tacoma, WA
08:30 PM
Brian McKnight

Nov 21 Sun
University At Buffalo Center for the Arts Buffalo, NY
08:00 PM
Brian McKnight
Dec 16 Thurs
Anaheim Concert
Brian McKnight
Dec 17 Friday

Orpheum Theatre - Downtown Vancouver

"An Evening with Brian McKnight"

Vancouver, BC, Canada
08:30 PM

Brian McKnight
Dec 19 Sunday
Keswick Theatre, Phillidelphia
Brian McKnight
Concert Calendar
Worldwide / 2010 / 2011 (Songkick)
2010 / 2011

Click link above for full list of current and past concert events to stay updated!

Most Current List Worldwide @ Songkick
October 2009 - Latest News:
AT&T LAUNCHES NATIONAL SWEEPSTAKES PROGRAM TO
FOSTER SCHOOL SPIRIT AMONG THE NATION'S HBCUs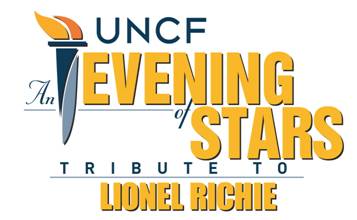 Schools Battle for the Spirit of UNCF Title and Incredible On-Campus Experiences
The school year just kicked off but the competition nationwide among historically black college and university (HBCU) campuses is about to get fierce. AT&T* announced today the launch of the "Spirit of UNCF" voting sweepstakes and HBCU rivalries will start heating up. The sweepstakes gives HBCU students, alumni and supporters a new way to show their school spirit by voting online or via text for their favorite HBCU. The battle begins Monday, Sept. 21, 2009 and ends midnight on Friday, Nov. 13, 2009.
"The sweepstakes are more than a contest, the program promotes school spirit and taps into the existing camaraderie among HBCU students and alumni," said Jenn if er L. Jones, vice president Diverse Markets, AT&T Operations Inc. "Our goal is to highlight UNCF's long-standing history as a national advocate for minority education through a fun and relevant program that engages parents, students and the academic community."
The HBCU with the most votes at the end of the competition wins the right to reign as the Spirit of UNCF. At stake are two incredible on-campus experiences: a campus-to-community technology education fair powered by AT&T Technology and an exclusive Hollywood-styled red carpet campus viewing party, complete with a celebrity host from the 2010 UNCF An Evening of Stars ® Tribute to Lionel Richie presented by Target. One lucky voter will also win a complete AT&T Technology makeover and VIP trip for two to the live taping of An Evening of Stars ® for next year.
Are you battle ready? Cast your vote for your favorite HBCU online at www.att.com/spirit or by texting VOTE to 65579. The Spirit of UNCF interactive Web site is the premier meeting space for you to read about contest details, view and submit alumni success stories and go head-to-head with rival HBCUs. Once there, you can sign up to receive mobile alerts and take advantage of exclusive AT&T offers.
"We are excited about the buzz the Spirit of UNCF sweepstakes will generate for An Evening of Stars ® and UNCF ," said Michael L. Lomax, Ph.D., UNCF president and CEO. "But more importantly, we are thankful for the contributions of AT&T and music legends like Lionel Richie, who are helping to make sure that all Americans have the opportunity to get the college degrees that they need and that the country needs them to have."
The winning HBCU will be announced on Monday, Nov. 16, 2009 with the individual sweepstakes winner announcement to follow. The on-campus rewards will occur on Saturday, Jan. 23, 2010, to coincide with the national televised airing of AEOS on ABC, NBC, CBS, FOX, and CW affiliates and nationally on BET Networks and WGN.
Any person 18 years or older residing in the continental U.S. is eligible to vote in support of their school and win. Each vote serves as one sweepstakes entry. Voting is limited to two votes per day, per person using any combination of voting methods. For more information please visit www.att.com/spirit .
*AT&T products and services are provided or offered by subsidiaries and affiliates of AT&T Inc. under the AT&T brand and not by AT&T Inc.
About An Evening of Stars ®
An Evening of Stars ® (AEOS), formerly the Lou Rawls Parade of Stars ® , first aired in 1979, and since that time has become one of the longest running and most successful televised events in U.S. history. Lou Rawls, a spokesperson for UNCF and champion for AEOS for more than 25 years, is credited with helping raise more than $200 million to help UNCF scholarship recipients and member institutions and their students pay the cost of higher education. In recent years, AEOS has featured a Who's Who of recognizable talent, including Stevie Wonder, John Legend, Chaka Khan, Ne-Yo, Nancy Wilson, Beyonce, Anita Baker, Jill Scott, Whoopi Goldberg, Fantasia, Joss Stone, Jenn if er Hudson, Michael Bolton, Natalie Cole, Herbie Hancock, Al Jarreau, Hall and Oates, Ziggy Marley, Maroon 5, and scores of others. An Evening of Stars ® received an Image Award for its 2006 tribute to Stevie Wonder and the 2008 tribute to Smokey Robinson. Learn more about AEOS at www.uncf.org/aeos .
About UNCF
UNCF—the United Negro College Fund—is the nation's largest and most effective minority education organization. To serve youth, the community and the nation, UNCF supports students' education and development through scholarships and other programs, strengthens its 39 member colleges and universities, and advocates for the importance of minority education. UNCF institutions and other historically black colleges and universities are highly effective, awarding 18 percent of African American baccalaureate degrees. UNCF administers more than 400 programs, including scholarship, internship and fellowship, mentoring, summer enrichment, and curriculum and faculty development programs. Today, UNCF supports more than 60,000 students at over 900 colleges and universities across the country. Its logo features the UNCF torch of leadership in education and its widely recognized motto, "A mind is a terrible thing to waste."® Learn more at www.UNCF.org .
June 2009 - Latest News:

.....................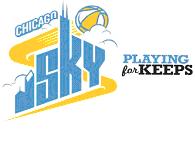 VS ......

THE WNBA CHICAGO SKY TAKES ON CELEBRITY ENTERTAINMENT LEAGUE IN
A BASKETBALL BATTLE OF THE SEXES
CHICAGO, March 12, 2009 –The Chicago Sky will host the first-ever Basketball Battle of the Sexes game when the WNBA Sky will suit up to take on an all-male team from the Entertainment League (E League) on June 2 at 7:00 p.m. at the UIC Pavilion. The game will be played with WNBA official rules, including WNBA referees, three-point line, shot clock, and official WNBA basketball.
The E League is composed of elite names in film, television and music who are talented in their respective industries and on the court. The E League plays every Sunday from November through April and is currently in its 12th season. The league consists of 16 teams playing a 15-game schedule, plus playoffs. The E League was originally formed in 1999 under the National Basketball Association umbrella in an effort to develop relationships within the entertainment industry, as well as give those within the industry who love basketball an authentic and private environment in which to compete. The E League is currently owned and operated by Entertainment League Productions (ELP). Along with participating within the E League, these celebrity athletes travel across the globe to participate in various community activities including charity games for local and national organizations.
For the Chicago Sky match up the E League roster includes actors and Chicago natives Michael Clark Duncan ( The Green Mile ) and Larenz Tate ( Crash ). They will team up with Grammy nominated artists Brian McKnight and Nelly, James Lafferty (One Tree Hill ) and 2008 E League MVP Donald Faison ( Scrubs ). Rounding out the roster are actors Frankie Muniz ( Malcolm in the Middle ), Columbus Short ( Cadillac Records ), Jay Harrington ( Better off Ted ) and comedian Bill Bellamy.
"I am looking forward to The Basketball Battle of the Sexes," states Academy Award nominated actor Michael Clarke Duncan who plays Center in the E League. "It is great to come back to my hometown as a part of the E League and have the opportunity to play (and win) against the talented women of the Chicago Sky."
"I'm looking forward to the game! Playing against guys is nothing new for me and most of my teammates, we grew up playing against the guys in the neighborhood parks and in college," said Sky center and USA gold medal winner Sylvia Fowles. "They might be surprised as to how strong, physical, and talented we are. It will be a fun and competitive game."
"This is a pre-season game for us, and just like any other opponent we are taking this challenge very seriously," said General Manager and Head Coach Steven Key. "The timing of the game is great for us, it's our last pre-season game before tipping off the season on the road, and playing a team of talented and experienced male players will challenge our team mentally and physically, further preparing them for the upcoming season."
"We are bringing a great cross-section of celebrity and basketball talent from the Entertainment League for this "battle against the Sky," says Shane Duffy, Commissioner of the E League and Co-Founder of Entertainment League Productions. "We are excited to showcase the E League's ability to play competitive ball with some of the WNBA's best players. The Sky will be surprised at the high level these celebrities are capable of and we expect a great contest. Without question the E league will be looking for the win."
The Sky is scheduled to play four pre-season games, with the fourth and final game against an all male roster with players skilled and dedicated to the fundamental game of basketball. The Sky tip-off their 2009 season on June 6 at Minnesota , and will host their season home opener on Friday, June 12 against Atlanta at 7:30pm at the UIC Pavilion.
Fans are encouraged to secure their celebrity game tickets now, as availability may be limited when 2009 Sky single game tickets become available for purchase in April. Fans can purchase their Battle of the Sexes tickets through a variety of packages that are available now, starting at $52, by calling 866-SKY-WNBA or by visiting www.chicagosky.net .
"If you follow the Sky you know that our players are young, fun, and entertaining both on and off the court, so it's no wonder the Sky created a unique opportunity to prepare for the 2009 season in an equally fun approach," said Sky President and CEO Margaret Stender. "This is an exciting opportunity for new and returning fans to watch their favorite stars take on their favorite Sky players."
Founded in 2008, Entertainment League Productions (ELP) is the premier sports entertainment marketing and production company. Combining the experience and expertise of partners Felisa Israel and Shane Duffy, both former long-time NBA executives, ELP is the definitive service for the production and execution of celebrity focused sporting events and talent bookings. The Entertainment League, a division of ELP, is a private celebrity basketball league comprised of movie stars, recording artists, directors, producers and Hollywood elite. For more information about ELP, visit www.eleagueproductions.com or www.eleague.ning.com .
The Sky is one of six independently-owned teams in the WNBA, the world's longest-running women's professional sports league. Chicago finished fifth in the Eastern Division with a 12-22 record in their third season. Sylvia Fowles, Chicago 's rookie center, ranked third in blocks per game and fifth in double-doubles with six. Forward Candice Dupree ranked third in defensive rebounds, fourth in rebounds per game and third in double-doubles with nine. Guard Jia Perkins ranked fourth in the league in steals, fifth in the league in free-throw percentage and seventh in points. The Sky plays at the Chicago 's UIC Pavilion. For more information or to purchase 2009 season tickets, visit www.chicagosky.net .
###
Contacts
Shone Jemmottt
Entertainment League Productions
(310) 402-5563

Other Brian McKnight News Articles on the Web:
TMJS Radio Interview / Replay: Brian Talks about New Single / Album "Ten" August 23 /06
McKnight Turns '10' With Warner Bros. - Brian McKnight signs with Warner Brothers
Brian Tours San Manuel Casino: August 24, 2006
Brian tours Las Vegas: September 15, 2006
Cheers,
Winst ;)